Everything you need in a salon and spa
​​​​​​​
get lost in the E'Lure
LATEST NEWS FROM E'LURE SALON AND SPA
"THE BISTRO" IS NOW OPEN!
E'Lure Salon and Spa is excited to announce that "The Bistro" will have a new occupant within the month of November. A soft open is scheduled for Saturday, November 12th with dates pending, but "The Bistro" will be fully open by the end of the month.
The owner of "The Bistro" is McClinton Broughton, Jr. and he is a stalwart in the restaurant industry and he is excited about the opportunity to expand his enterprise along with his catering business. Not only that, but "Pastor Mac" as he is called Pastor and founder of Turning Pointe Ministries (Nov. 2009) and he has a list of many other accomplishments and successes within his career, which includes being featured in Black Enterprise Magazine in 1998; acquiring one of the largest minority contracts for the 1996 Olympics; 18 years as Vice President of the NAACP in Rockdale County; a member of the Conyers Rockdale Chamber of Commerce for 7 years and so much more!

McClinton Broughton, Jr. is married to his lovely wife Katrina Broughton.
WELCOME FELICIA POUNCIL TO THE E'LURE SALON AND SPA FAMILY
Felicia Pouncil is a passionate hair stylist and Make-up Artist that specializes in maintaining and growing healthy hair. She keeps on the latest trends and styles through constant continuing education courses and training. She has expertise in natural hair, color, hair cutting, silk presses, and chemically treated hair all while making sure the client's hair stays healthy and beautiful. Her professionalism and patience allow her to gleam with the knowledge and understanding that it takes to make her clients feel comfortable and relieved that they have a caring professional that knows how to take care of their hair care needs.​​​​​​​

CALL OR EMAIL ONE OF OUR MASTER STYLIST FOR A CONSULTATION or APPOINTMENT

770-388-0339
LOOKING FOR THE PERFECT LICENSED STYLIST?
Episode 12 - Causes of Thinning Hair & Solutions (Part 1)
Are you a Licensed Stylist?
Seeking a Professional Environment?
Check out our Amenities below and Join our Team!
Contact information below.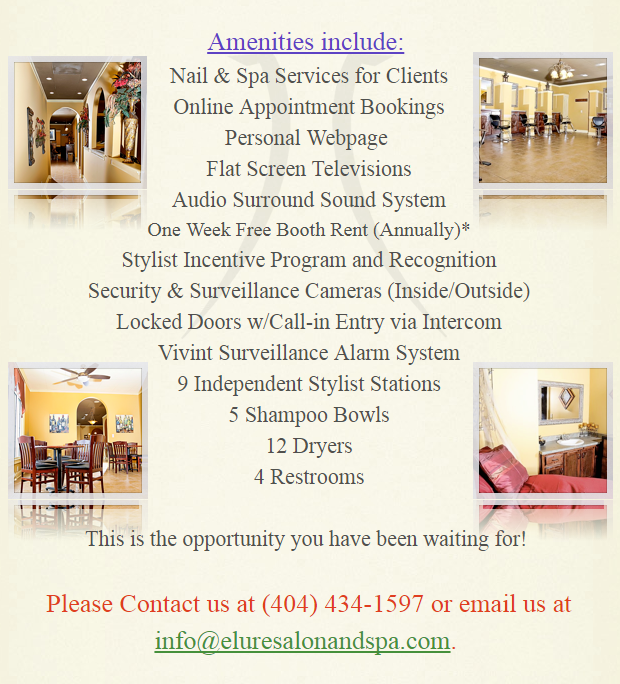 We're LOCATED in the Back!
Check Out Our New E'Store!